← volver
The professionals will dedicate themselves to working in the line of Public Value in Education. The deadline to apply is June 30 of this year.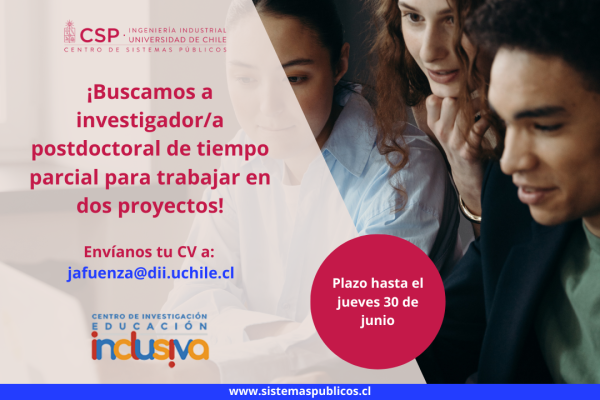 Our Center for Public Systems (CSP) of the Department of Industrial Engineering and The Centre for Research in Inclusive Education (CIEI) is looking for a part-time research fellow to work on two research projects. One project examines school principals' discriminatory attitudes toward students, while the other studies parental preferences regarding early education institutions.
While working on these projects, the research fellow will work under the supervision of Dr. Pablo González, Principal Investigator of the CIEI's and with a group of doctoral, postdoctoral, and senior researchers.
The research fellowship consists of $6.000.0000 (Chilean pesos)—before taxes or any other discount (approx. US$7,500), which will be paid on the provision of projects' deliverables. The fellow will also co-author the publications derived from these two projects, which are expected to be finished by December 2023.
Selection criteria
A doctorate in a discipline related to public policy, public management, education, economics, psychology, or sociology. We are open to considering candidates in the late stages of their doctoral studies and from fields whose work clearly relates to education and/or public management.

Evidence of work on internationally excellent publications in international peer-reviewed academic journals.

 Evidence of quantitative research analysis skills, alongside good programming skills in R and/or Stata.

Ability to carry out independent research.

Ability and willingness to work effectively with colleagues.
The primary duties of the research fellow will be:
Prepare a work plan for the two research projects mentioned and track the progress of these two
projects accordingly.

Conduct advanced quantitative analyses in R/Stata and write reports of the results obtained.

Conduct and write literature reviews.

Coordinate the team involved in these two research projects.
How to apply
Please email your application to Dr. Javier Fuenzalida (jafuenza@dii.uchile.cl) with the subject "Application for CIEI research fellowship", including:
A full CV.

A brief cover note/email (max. 500 words) addressing the selection criteria and why you would like to be involved in this research. Also include any constraints around availability (e.g., term dates, thesis deadlines, future commitments, etc.).

A sample of your most recent work in English.
The closing date for applications is Thursday 30 June 2023.
31 de mayo de 2023